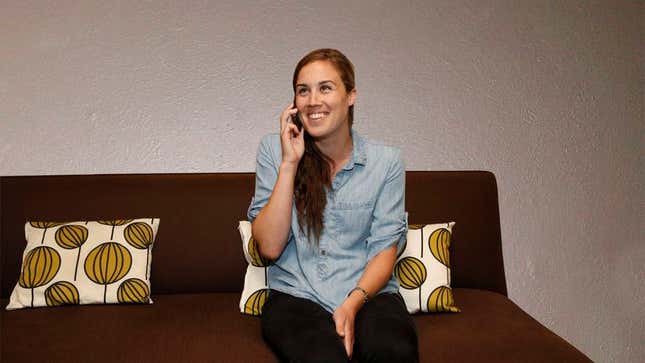 PHILADELPHIA—Seated in the kitchen of her tastefully decorated apartment, local woman Jessica Beaumont looks the part of a typical young urbanite navigating life in the 21st century. But beneath this normal-seeming exterior lies a fascinating and highly odd characteristic.
According to sources, the 28-year-old office manager possesses a mystifying ability to share details of her personal life with her parents, a skill she somehow exercises openly and routinely throughout her week.
"I like catching up with my mom and dad and keeping them in the loop with everything that's happening in my life," said the peculiar woman, who, despite being an independent and free-willed adult, voluntarily conveys feelings, opinions, and observations to her parents without prompting or coercion. "I don't get to go home as much as I'd like to, so staying connected with them is really important."
"I mean, they're my parents, so I want to make sure they're up to speed on everything," she added, as though unaware of her innate strangeness.
The utterly bizarre Beaumont told reporters that during an average workweek she will check in with her parents as many as four or five times to brief them on upcoming plans and generally "just talk about things," including movies, family friends, and life challenges she's facing.
Earlier this week, the weird woman actually said she "enjoyed" talking to her parents, and not just about trivial matters, but about actual thoughts and feelings central to her life.
"The other day I was telling Mom all about this problem I'm having with Allie," Beaumont said in reference to a person in her life with whom her mother was evidently so well acquainted that it was unnecessary for Beaumont to mention either the woman's last name or her relation to her. "I explained all my feelings about it, and she had some really interesting advice."
"My mom has years of experience with this stuff, and she knows me better than just about anyone, so she's great to talk to," Beaumont continued in total earnestness. "I should really call Dad and talk to him about it, too."
Sources reported that Beaumont's mother and father know virtually everything about their daughter's life, including her upcoming social plans, issues with friends, and frustrations at work, and that Beaumont is in no way bothered by the fact that her parents are familiar with all these things.
According to boyfriend Travis Ecton, a normal young man she's been dating for eight months, Beaumont's uncanny capacity for conveying the details of her personal life to her parents is a constant source of bafflement and amazement to him.
"It's like she wants [her parents] to know what's going on with her," said Ecton, remarking on his girlfriend's propensity for talking on the phone with her mother for 45 minutes to an hour at a time. "Instead of just saying 'I'm fine,' she'll start going on about what she did that day or things that worry her. If she has a disagreement with a coworker or goes to the doctor for some reason, her parents are, like, the first ones to know about it."
"But the weirdest part is, she doesn't do it out of a sense of obligation or guilt, she actually wants to and thinks it's normal," he added. "It's one of the strangest things I've ever seen."
At press time, Beaumont was writing a long e-mail to her parents—an e-mail she put thought and care into, and composed with absolutely no prompting—telling them in multiple paragraphs about something interesting that had happened to her on the way to work the other morning.