MERCER, PA—Heather Lentz's 11-month imaginary romance with bad-boy heartthrob Colin Farrell has ended, the 25-year-old paralegal announced Monday.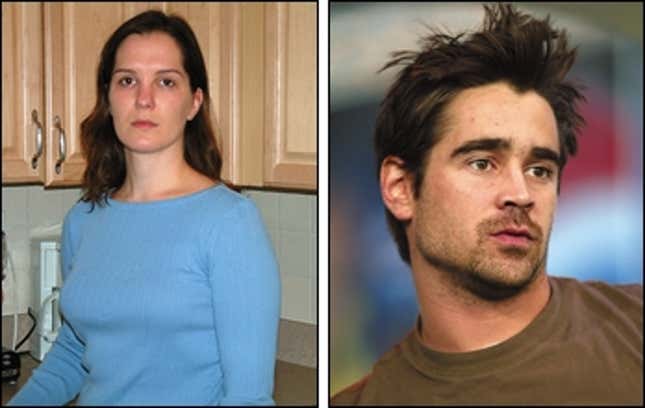 This Week's Most Viral News: September 29, 2023
"While I'll always have affection for Colin, the hard truth is that he's not the kind of man I need in my imagination right now," Lentz said, her voice tight with emotion. "It hurts to say this, but it's probably best that we will never actually meet."
Though she was initially infatuated with the piercing good looks and Gaelic charm of the Irish-born star of Minority Report and S.W.A.T., Lentz admitted to being "troubled" by Farrell's widely reported penchant for hard drinking, profanity, and womanizing.
"Those brown eyes are to die for, and I'll admit that I've always had a weakness for men with stubble," Lentz said. "Nevertheless, I was turned off by Colin's rude behavior. His constant need for attention is really juvenile."
Lentz, who gleaned her knowledge of Farrell from various entertainment-news sources, has never sought a real-life relationship with the rising star, and characterized the phenomenon of celebrity stalking as "pathetic." Nevertheless, when pressed, Lentz was able to give a detailed account of the rise and fall of her pretend relationship with Farrell.
"In the beginning, Colin could do no wrong," Lentz said. "I was aware of his wild reputation, but I was willing to tolerate it—I even welcomed it—because he was so exciting and alive. He made life unpredictable. Blind love, I guess."
Lentz's passion for the actor manifested itself in several ways. If she caught a TV report on Farrell, she would quickly insert a tape into her VCR and record the remainder of the segment. If she saw that Farrell was scheduled as a guest on a late-night talk show, she would stay up to watch the appearance. Lentz would also buy a magazine if Farrell was on the cover, and even attended an opening-day showing of Daredevil, in spite of her aversion to most action movies.
"My crush on Colin transformed me," Lentz said. "I found myself standing taller, dressing better, and taking things a little less seriously. My friends noticed the change. Still, all the while, anxiety was creeping in: What if I wasn't the type of woman he would find attractive?"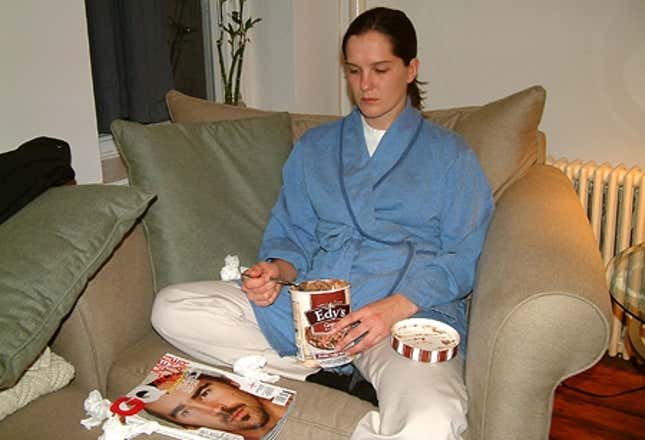 Eventually, Lentz said "reality" set in.
"Colin and I live in separate worlds, divided by an unbridgeable gulf," Lentz said. "He's a wild, glamorous actor from cosmopolitan Dublin, and I'm just a community-college graduate from western Pennsylvania with a low-paying job and average looks. It would never work."
"Colin loves fast living, and I prefer quiet evenings at home," Lentz said. "At first, I would imagine all the fun parties we'd go to if we were dating, but I grew tired of that pretty quickly. I started picturing myself sitting there in my bathrobe, waiting up for him—just like my mom used to do. I don't want that."
Lentz also began to wonder if Farrell would remain faithful.
"It got to where I couldn't fantasize about us being together without constantly wondering if he would run around on me," Lentz said. "If he's cheated on women before, I couldn't see why I'd be an exception. He's just not worth the heartache."
The news that one of Farrell's girlfriends, model Kim Bordenave, gave birth to his son helped convince Lentz to break it off once and for all.
"I had to dump him from my thoughts, if only to preserve my sanity," she said. "I know that I'm choosing practicality over love, and maybe that makes me as weak as Colin, but in a different way."
Lentz said she is taking steps to scale back Farrell's presence in her life. She has taped over her copies of his Access Hollywood appearances, and removed the film Hart's War, starring Farrell and Bruce Willis, from her Netflix queue.
Rumor has it that Lentz was recently overheard commenting on the attractiveness of the Scottish actor Ewan McGregor. Still, although Lentz said she considers McGregor "cute," she denied any pretend relationship.
"To tell you the truth, I've been much more attracted to the veneer of maturity and stability lately," Lentz said. "I saw William H. Macy in [the TV movie] Door To Door, and he seemed like a man who could hold a woman's attention."
Neither Farrell, on location in Australia, nor Lentz's real-life boyfriend Neil Benson, working late at Mercer Credit Union, could be reached for comment.