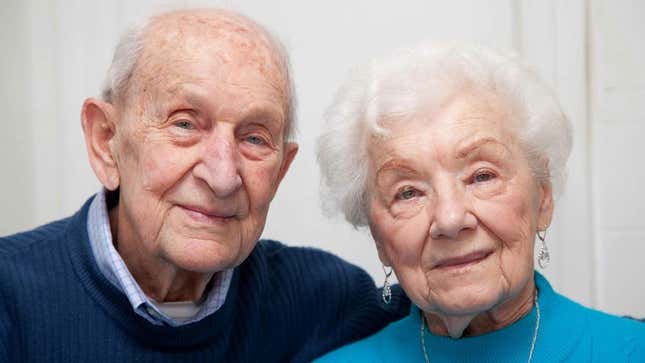 TACOMA, WA—Sitting at the bedside of her ailing husband Roger, whom she first met at a school dance in 1951, local woman Jeanie Davison told reporters Wednesday that when the time comes for her beloved spouse of 60 years to pass on, she has no intention of letting him drag her into death at the same time.
This Week's Most Viral News: September 22, 2023
"Roger and I have shared our entire lives together, but just because he dies doesn't mean I have to die too, right then and there," Davison, 79, said of the man she considers her best friend and "other half." "I'll be there to see him off to heaven when the time comes, and I'll meet him there eventually. But I've got another five years at least."
"I know that someday we'll be together for all eternity," Davison added. "It's not going to be 15 minutes after he passes on, though. I think that's a bit hasty."
Davison said that while she is deeply saddened by the thought of life without her closest companion, she acknowledged that she was actually pretty capable of imagining how things would be without him, especially in two or three years when she has adjusted to her new routine. In addition to visiting friends more often and reading, Davison said she would definitely spend more time watching her grandkids grow up, enjoyable activities she is reluctant to sacrifice just so she can breathe her last breath at the very same moment her husband does.
In fact, Davis confirmed that if she still feels as healthy as she does right now, she plans to make her first-ever visit to Redwood National Park once Roger dies, a trip she would be unable to take if she were lying in bed, looking over at her husband's now-empty rocking chair, and waiting to join him.
"I'll stay by his side until his very last second as a testament to our love, but after that, I'm moving on with things," Davison told reporters, adding that dying together holding hands had genuinely never even occurred to her. "When he says, 'See you soon,' I'll smile and nod, but honestly, it won't be that soon. I feel great. As much as I love Roger, now's not the time."
"I sometimes ask myself if it's even worth going on without him," Davison said. "And the answer's always, yes, I think it is, at least for a little while—probably longer."