VAN NUYS, CA—Psychologists agree that children who are neglected or abused by their caretakers often develop long-term mental-health problems. Childhood trauma frequently leads to emotional problems such as depression, feelings of worthlessness, underachievement, and detachment from reality. But some victims find the strength to rise above tragedy. One such survivor is Katrina Foechelman, an attractive 22-year-old who has overcome years of sexual abuse to achieve something most women only dream of: a featured role in a top-selling pornographic video.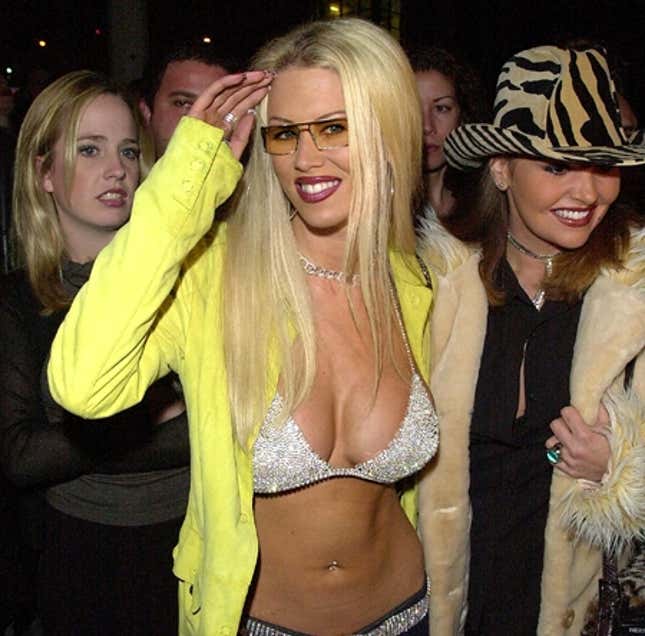 This Week's Most Viral News: September 22, 2023
"Yeah, I've been through some bad shit, but now I'm living large," said Foechelman, whom fans know as Trina Foxxx. "I got a great house in the Hollywood Hills and a lot of fancy-ass clothes. Everywhere I go, people know my name, whether I'm signing autographs at an adult-video convention or doing a feature dance at Spearmint Rhino. And you should see the car I drive—that's a Corvette, baby. Nothing but the best for Trina Foxxx."
Added Foechelman: "As long as you believe in yourself, the San Fernando Valley is the land of opportunity."
To see Foechelman, winner of a 2003 Adult Video News Award for Best Multiple Anal, you'd never guess this smiling, glamorous, club-hopping sex starlet was sexually abused from the age of 7. Strutting confidently in her high heels, mini-skirt, and visible thong, thrusting her surgically enhanced chest out with pride, she's a source of inspiration to everyone who works with her.
"You've gotta hand it to a chick like Trina," adult-film producer Jimmy Carlyle, 51, said. "Here's a gal who's been through it all—court-ordered separation from her real mom for neglect, foster homes, and a whole series of fucked-up, sicko stepdads doing God-knows-what to her. But she's taken everything life has thrown at her with a can-do attitude that's rare in this business. In spite of the obstacles, she's made her dreams of porn stardom come true."
Added Carlyle: "Of all the girls working this industry right now, I'd put Trina in the top 10 for cocksucking, pussy-eating, and hot fucking. And when it comes to deep, gaping anals, she's in the top five. She completely deserves her success."
Foechelman said she was determined to conquer the world, in spite of the roadblocks she faced while in her teens.
"Lots of people tried to keep me down and make me feel bad about myself," Foechelman said. "Like my first stepfather, Larry. He used to, like, finger me and shit when my mom was working late. And he'd call me names, too, like 'slut' and 'whore' and 'Daddy's little fuck-toy.' Luckily, my court-appointed social worker Pam explained how it wasn't my fault, so I shouldn't let it give me, like, low self-esteem and stuff. Thanks to Pam and all the new friends I made since moving to L.A., I didn't let that fucking bastard Larry—may his sick ass rot in hell someday—keep me down. I made it to the top of the adult industry anyway."
Added Foechelman: "Now, the only time anybody calls me a 'slut,' 'whore,' or 'fuck-toy' is when I'm getting paid. And I'm not talking shit money, like back when I worked the peep-show booths. I'm talking serious money. It just goes to show you that if you keep your chin up, stay focused on your goals, and don't do too much coke, you can really turn your life around."
Foechelman ran away from a foster home in Roswell, NM, to enter the adult-film world in 1999, at age 16. While she was considered something of a prodigy by her admirers, stardom did not arrive overnight.
"I used to get discouraged, 'cause it seemed like no matter how hard I tried to please the other actors, I was always getting second billing to one of the more established girls," Foechelman said. "Even if I had more minutes on the video, I never got star billing. Sometimes, it would make me think that Larry—oh, and Mom's new boyfriend John, and Uncle Marty, and that asshole whose kids I used to babysit when I was 11—were right about me. They said I'd never amount to nothing."
But Foechelman refused to give up.
"I kept a positive mental attitude," Foechelman said. "I said 'Yes, I can!' whenever they asked me to do extreme shit, like taking two cocks in my ass at once, or doing an ATM [Ass To Mouth] and gang-bangs. By the time I was actually 18, I had my name on the cover of Butt Fuck Sluts Go Nuts, Vol. 41. I was so psyched to have finally earned myself a reputation!"
Foechelman's star has only continued to rise. Over the weekend, she filmed the titular roles in Trina Wants It, Trina Takes It Deep, and A Filthy Trailer-Trash Bitch Named Trina. Finally, her dream of stardom has become a reality.
"I got it all now: diamond jewelry, champagne, guys grabbing all over me at the dance clubs, you name it," Foechelman said. "I showed those assholes who said I'd never amount to anything, the fucking pricks. Whatever doesn't kill me makes me stronger. You can't keep a good woman down."
"If only that sick fuck Larry could see me now," Foechelman added. "Come to think of it, Killer Cum Shots sold 20,000 copies, so I guess he probably has."