WILKES-BARRE, PA–Joan Pavlik, a 49-year-old Wilkes-Barre dental hygienist, is "completely in love with Brazil," despite the fact that she has only seen four square miles of land surrounding the Sol Rio Internacional Resort near Rio de Janeiro.
"Brazil is just the most incredible country," Pavlik told friends Monday over lunch at Olive Garden. "The mountains, the beaches, the rainforest: It's like heaven on Earth."
Pavlik became captivated by the South American nation in early March, when she and husband Lou spent seven days at the Sol Rio resort in celebration of their 20th wedding anniversary.
"The Brazilian people are so warm and friendly," Pavlik said, "and almost all of them know how to speak English."
The Sol Rio resort, which offers 12 tennis courts, three 18-hole golf courses, an Olympic-sized indoor pool, and several authentic Brazilian-style restaurants, is located along a secluded stretch of beach 20 miles south of Rio de Janeiro. Except for the air-conditioned charter bus ride to and from the airport, Pavlik did not venture more than 5,011 feet from her "Iguaçu Suite" overlooking the sea.
G/O Media may get a commission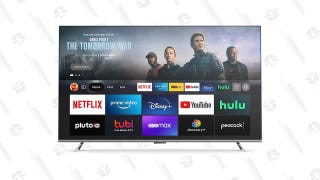 Save 46%
Fire TV 55" Omni Series 4K UHD Smart TV
"Brazil has such a unique culture," said Pavlik, whose stay at Sol Rio was part of a "Hot Nights, Cool Sights Deluxe Rio Package" she booked through her travel agent. "Very exotic, yet very sophisticated. They don't speak Spanish, you know. It's Portuguese."
After demonstrating her mastery of the phrases "Por favor" and "Onde e o restaurante?" Pavlik told her friends that she especially loved Brazil's "wonderful traditions."
"One of the neatest things about Brazil is Carnival," Pavlik said. "It's like Mardi Gras, with costumes, music, and parades. It only comes once a year, but every Friday night in the resort's Vidas Secas Lounge, they have a mini-Carnival with a stage show and band. Isn't that the best?"
Pavlik added that after the show, she and other Sol Rio guests were invited to join the dancers on the floor for a Samba lesson. "It was so much fun," she said. "I almost fell right on my butt a few times, but I didn't even care!"
In addition to the culture of Brazil, Pavlik also learned a great deal about its environment during her trip. Particularly eye-opening was a Wild Adventures Ecotour, which took her and a busload of other Sol Rio guests a quarter-mile deep into the rainforest.
"Our tour guide Henrique was so funny, and he really knew his way around the jungle," Pavlik said. "I'll never forget when he beeped the bus' horn, and about 15 monkeys came running up and ate oranges right out of his hand!"
"That's what's so amazing about Brazil," Pavlik said. "It's this incredible mix of untamed nature and big-city excitement."
Pavlik did not actually venture into Rio de Janeiro proper, as an excursion to the city was not included in her travel package due to liability concerns over taking tourists to a teeming urban center where crime is rampant and less than half the inhabitants live in homes connected to a sewer system. Pavlik did, however, spend a great deal of time at the Little Rio Marketplace, a collection of stores and stands located between the Sol Rio resort and the neighboring Hotel do Frade resort.
"I bought this adorable miniature burlap sack of coffee beans that says '100% Brazilian Coffee' on it," Pavlik said. "I've already warned Lou that we're going back to Brazil for our 25th."
"We could've just gone to the Bahamas or down to Puerto Vallarta again," Pavlik continued, "but I wanted to go someplace more exotic and cultural. And the package was a steal: airfare, room, breakfast and lunch buffet, and two outbound adventures for just $2,899."
Joaquim Costa, director of the Museu de Arte Contemporânea in São Paulo, was pleased to hear about Pavlik's deep affection for his native land.
"There is much to love about Brazil," Costa said. "Our culture is a unique mixture of Native American, European, and African. Explore Brazil, and you will meet cowboys of Rio Grande do Sul, the vaqueriros to the Northeast, the women of Bahia in their traditional African dress, the Native Americans resplendent in ceremonial beads. There is also the nationalistic writings of José de Alencar, the art of Tarsila do Amaral, and our rich pageantry of music and dance, ranging from bumba-meu-boi to tropicalismo, sertanejo to capoeira."
But, despite his pride, Costa acknowledged that Brazil is a deeply troubled land.
"As much as my country has to offer, our problems must be very apparent to visitors," Costa said. "A tour through the city reveals some of the worst slums on Earth, with shantytowns, or favelas, stretching as far as the eye can see. A trip to the country shows the shacks of rural laborers in the shadow of the plantation owners' casa grande, the big house. Everywhere you look in Brazil, there is terrible poverty and suffering. It would take a blind man not to see such pain."