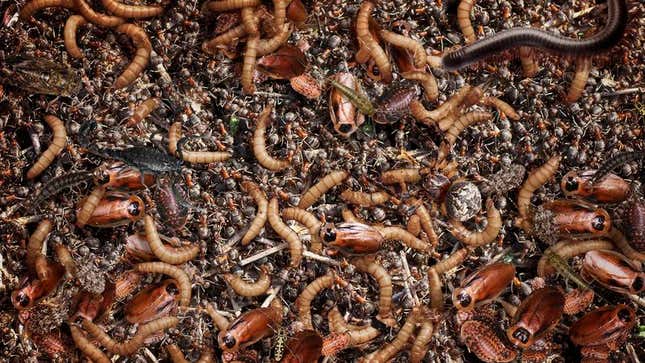 OTTAWA—A host of high-ranking insect leaders convened in Canada for the annual G20,000,000,000 summit Friday, addressing various challenges facing today's insects and promoting stability among the global bug population.
This Week's Most Viral News: September 29, 2023
The two-day conference, held this year in a secluded, heavily wooded area of the Ottawa National Forest, reportedly includes various insect representatives from North and South America, Europe, Asia, and Africa, as well as over 15,000 different species of beetles from Australia invited as non-member delegates.
"The decisions made at the G20,000,000,000 will greatly affect all 10,000,000,000,000,000,000 insects around the world," said John Cavagnaro, chair of the International Society of Entomology. "This is where the most pressing issues for modern-day insects are tackled head-on, and it provides a forum for these powerful rulers to deliberate over diminishing nectar supplies, ways to achieve sustainable nest growth, and new forms of cross-pollination."
"But perhaps its most vital function is to diffuse any tensions between colonies by opening up direct lines of communication through antennae and stridulation," Cavagnaro added.
According to those present, the first day's proceedings began with a discussion of efforts to combat worryingly high larval mortality rates in Africa, which then reportedly led to a joint proposal from various mosquito delegates advocating universal access to stagnant water. The insect representatives also reportedly voted down a controversial plan to ban flying toward big bright lights.
Tempers were said to later flare up as a coalition of bees, hornets, and yellow jackets vehemently opposed initiatives introduced by several influential wingless insects to reduce global swarming. All 20,000,000,000 parties, however, reportedly unanimously agreed upon tighter security measures for protecting insect queens, although leaders differed on which specific queen's safety was of paramount importance.
Sources said there was then a brief intermission during which leaders frantically feasted on a dead mouse.
"As in past summits, one major point of debate is the ongoing threat of dangerous arachnid groups," said Cavagnaro, adding that violence between the invertebrates continues on a daily basis. "Views are still largely divided—5,500,000,000 members are in favor of attacking the spiders, 7,000,000,000 have pushed for diplomatic resolutions, and the remaining 6,500,000,000 are staunchly refusing any engagement whatsoever out of fear of getting caught in webs and eaten."
"There is growing optimism regarding potential peace talks," Cavagnaro added. "That said, this bitter conflict dates back 400 million years, and very little headway has been made in that time."
Originally known as the G8,000,000,000, the global conference was launched 51 million years ago to protect general insect interests in the wake of the tragic extinction of the Eorpidae scorpionfly. Among its founding members were black vine weevils, desert locusts, diamondback moths, and ladybugs, but the group has since reportedly grown to collectively account for roughly 90 percent of all animal lifeforms on earth.
Many within the general insect population, though, remain skeptical of the G20,000,000,000's actual impact, claiming that rather than working toward effective policy changes, leaders often resort to secreting petty territorial pheromones.
G20,000,000,000 members have also come under fire over a perceived lack of action against pesticide, with critics accusing the leaders of ignoring the systematic extermination of millions of insects.
"The summit has been facing mounting pressure to take decisive steps to stop the widespread, indiscriminate gassing of wasp hives," said Cavagnaro, adding that critics have frequently condemned the group for failing to prevent such atrocities and devoting far too much time to masticating plant leaves. "Meanwhile, countless worker ants occupying sidewalk cracks have been killed or displaced by mass floods of hose water, not to mention the thousands, perhaps even millions of ant hills destroyed in foot traffic every day."
"Unless something is done soon, these crises will sadly be the burden of future generations of hymenopterans," Cavagnaro added.
At press time, the G20,000,000,000 had abruptly concluded after a small bird flew overhead, causing all insect leaders to scatter.