TULSA, OK—After years of being appalled by the perfectly good items discarded by Tulsa residents, garbage collector Matt Ciszek, 34, reported Monday that he is "no longer shocked by anything."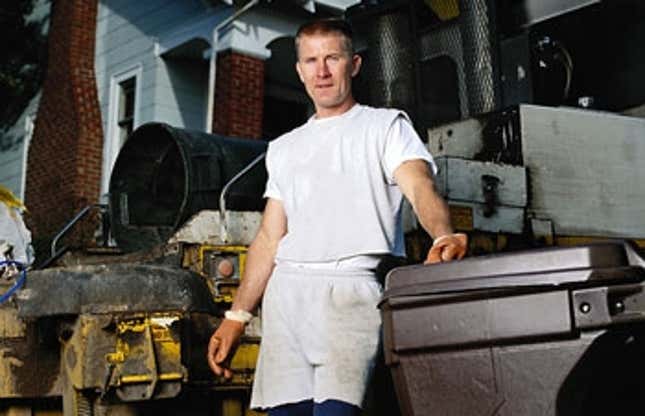 "Used to be, I'd come across a new breadmaker still in the box, and I'd be floored that someone could be so wasteful," Ciszek told reporters Tuesday. "Now, I don't even flinch. I guess I'm just old."
Ciszek, who has worked for the Tulsa Department of Sanitation for nine years, said he has "seen it all in my time."
"You wouldn't believe the things I've hauled off," Ciszek said. "Fully functional air conditioners, entire record collections, VCRs, unopened boxes of cereal and canned goods, like-new chairs, desks with barely a scratch, stereo components, computers—you name it. I don't know how many pairs of shoes still in the box, never been worn, I've tossed in the back of the truck. I must have junked 50 miles of extension cords, and I'm guessing 95 percent of those still worked."
"Yes, in the beginning, I was stunned," said Ciszek, staring off into the distance. "But now, well, I'm numb to it. It's all just another load to toss in the back."
According to his wife, in the early days, Ciszek would come home fuming about the waste he witnessed on his run.
"Matt used to get so worked up," said Joan Ciszek, 34. "He'd say, 'You won't believe what I found today—an entire box of tools, with an electric drill and everything. Must've been at least $800 worth of stuff.' Nowadays, he doesn't even talk about work."
Even though the Department of Sanitation prohibits garbage collectors from taking discarded items for themselves, Ciszek said he used to pocket the occasional item.
"How could I not bend the rules a little?" Ciszek said. "It would've been a sin to let that 20-gallon aquarium tank go to the dump."
Years later, however, Ciszek rarely bothers bringing items home.
"There's still great stuff out there," Ciszek said. "I guess I just don't have the motivation to do it anymore. I've become jaded. If some guy is going to throw away an entire box of plastic hangers, only to buy a whole new batch of hangers as soon as he moves into his new place, who am I to stop him? I'm just one garbage man."
Ciszek estimated that it was about five years ago that he "stopped noticing."
"My job is to get the trash from people's homes to the dump," Ciszek said. "I can't get my job done if I'm always keeping one eye out for the good stuff. Besides, it's too painful to see a perfectly good set of wheel covers crushed right in front of my eyes."
As the years roll by, the waste is only getting worse, Ciszek said.
"Things I used to see only occasionally have now become the norm," he said. "Throwing the lights out because you're too damn lazy to take them off the Christmas tree, vases with the withered flowers, halogen lamps in need of a bulb—it's all common. See what I'm saying? This is why I had to stop caring."