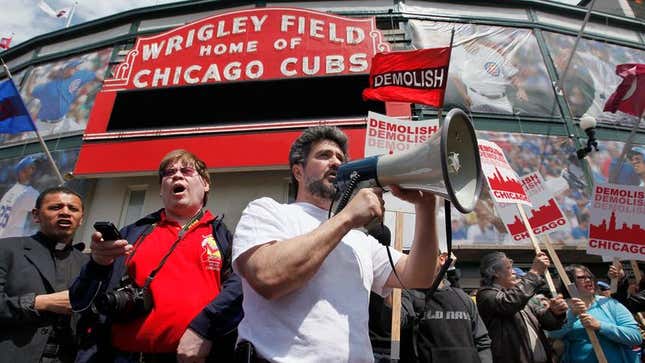 CHICAGO—A coalition of die-hard Cubs fans and Wrigley Field supporters introduced a drastic proposal at a Chicago city council meeting Tuesday, angrily calling for the demolition of the expensive, obsolete, 175-year-old city surrounding the beloved ballpark.
Body Language Fact: Did You Know?
Hundreds of devoted Wrigley Field advocates attended the public hearing as thousands of like-minded demonstrators gathered outside of City Hall, using chants, pamphlets, and signs to point out that the greater Chicagoland area is a decrepit eyesore and the outdated 10,856-square-mile urban sprawl should immediately be razed.
"It's truly a travesty that a hallowed franchise of Major League Baseball is still playing in a dilapidated city that should have been replaced decades ago," said lead organizer Keith Garrison, addressing the assembly in a Ryne Sandberg jersey. "I'm sure that to some of its more hardcore fans, Chicago has some charm in an antiquated way. But the greatest baseball team and fans in the world deserve something better than this dump."
"It's more suburbs than city anymore, for crying out loud," Garrison added. "Instead of actually improving the place, they'll just keep adding more tacky stuff on until it's in danger of collapsing under its own weight."
Garrison, who presented a petition signed by more than 50,000 irate Cubs fans to mayor Rahm Emanuel, said that leveling the 234-square mile area immediately surrounding Wrigley Field would be "an excellent start," eliminating a decades-old blot on the landscape and providing an opportunity to construct a modern, multi-use metropolis fit for a more contemporary and cosmopolitan urban resident.
Supporters of the plan spoke at length about the archaic, crumbling, inefficient city that now encircles Wrigley Field, voicing complaints about inadequate access, the lack of decent concessions other than hot dogs, and the dozens of unsightly neighborhoods obstructing the view of the adored baseball stadium.
"That whole Chicago area around Wrigley is decrepit and, if we're being honest, just plain ugly. Frankly, I just don't understand why we should hang on to the past," said Cubs season ticket holder Mark Barger. "I've never been a big fan of the skyline. We should get rid of it and put up some sleek, contemporary buildings that aren't so gaudy, something that doesn't look like it was built in a hurry in the late 1970s."
"Also, they should remove that tacky water feature," added Barger, indicating the Chicago River. "It's right in the way of everything and old and gross and nobody even uses it."
The majority of fans lobbying for the demolition of the third-most populous city in the United States also objected to the fact that Chicago lacks a retractable dome that could be closed on days with bad weather. Others criticized the area outside of Wrigley Field for being too cramped and deficient in decent seating, pointing out that, during the winter months and while the Cubs were on road swings, the city went largely unused anyway.
Although Wrigley Field adherents acknowledged that tearing down the city of Chicago would be a colossal endeavor, the dedicated Cubs fans recommended accomplishing the task in small increments, starting with imploding U.S. Cellular Field and then bulldozing what remains of the South Side.
"I know how this will sound to people who don't live here, but Chicago is totally cursed," said Cubs fan Paul Griffin, who suggested the Cubs demand a new city as lovable as their legacy. "We shouldn't be afraid to knock this whole place down and start over. Nothing has happened in the place for over a century."
"Chicago will always be known as the place where dreams go to die. It's time to demolish it and get a brand new metropolis," added Griffin.
The optimistic Cubs fans informed city aldermen that destroying everything surrounding Wrigley Field would rally the local economy by creating millions of jobs to first tear down Chicago and then to rebuild the new, far better city. In addition, the plan suggested that finding a corporate sponsor to buy the naming rights could offset the costs of constructing and running Chicago's replacement.
The plan to tear down Chicago, sources confirmed, was surprisingly popular with people from other cities in the region.
"I hate that fucking thing," said Milwaukee resident Tim Rach. "It's such a shithole. It's expensive, the beer sucks, the food is overrated, and they're total assholes to visitors."