NEW YORK—Citing a need for physical and spiritual cleansing after a Boston Red Sox fan entombed a David Ortiz jersey in the floor of the new facility, the New York Yankees buried former centerfielder Bernie Williams under 4,650 pounds of concrete Wednesday in the foundation of the new Yankee Stadium for good luck.
According to team sources, the instant the 39-year-old Williams was completely submerged in the rapidly setting structural material, stopping his voice as his lungs and mouth filled with concrete, the sun broke through the clouds and shone on the yet-incomplete field. Yankees part-owner Hank Steinbrenner called the occurrence a sign indicating that the "Curse Of A Red Sox Fan's David Ortiz Jersey" had been reversed, and that God was once again on the Yankees' side.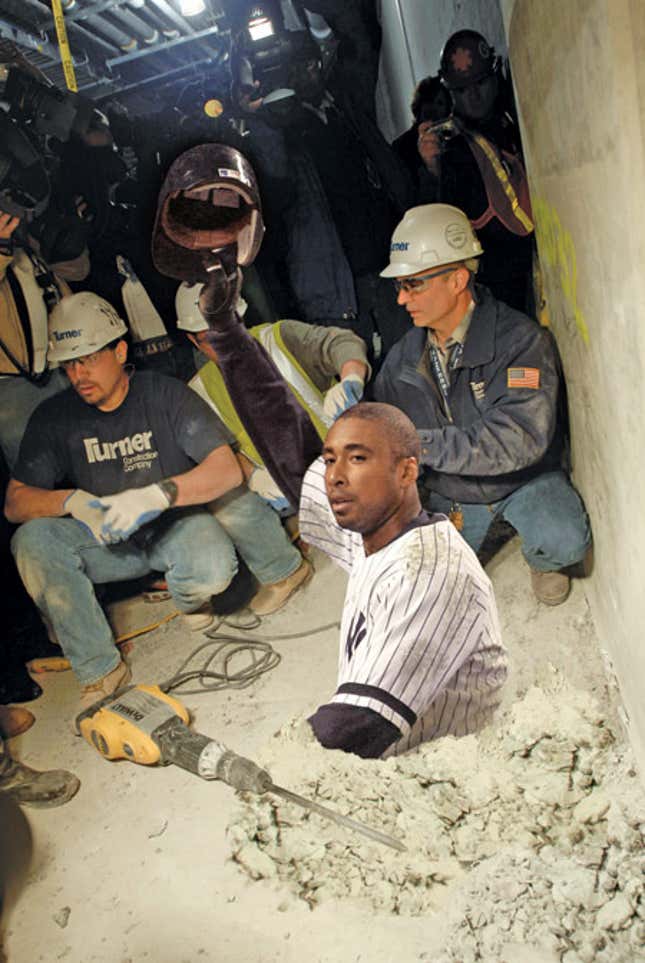 "Any attempt to put a hex on the New York Yankees has been successfully averted," Steinbrenner told reporters while standing over the still-wet concrete slab beneath which, judging by the sluggish ripples and lopsided bubbles in the hardening agglomerate, Williams still struggled. "Not that this organization believes in curses. We're the Yankees. We believe the success of our team is based purely on our players and their on-field performance. And we act accordingly."
"However," Steinbrenner continued, "Bernie was on our last World Series team in 2000, so we figured burying him under our new home certainly couldn't hurt. Also, he was available, and his appearance fee was quite reasonable."
The burial ceremony, which delayed the completion of the stadium approximately three weeks and cost roughly $1.5 million—$1,000 of which will go to Bernie Williams' family—involved placing Williams into a six-foot-deep concrete hole directly where the tattered Red Sox jersey was found.
Dressed in his full Yankees uniform and batting helmet, and clutching an autographed ball signed by all members of Yankees' 1996 World Series team, Williams was lowered into the ground and then covered with a combination of concrete, fly ash, slag cement, and coarse aggregate consisting mostly of gravel limestone.
Though Yankees officials did not allow Williams' family to attend the burial, citing the fact they were not "true Yankees," they permitted the former centerfielder to take with him a picture of his wife and three children after Williams provided video evidence proving that all of his family members were present and cheered during the Yankees' championship run between 1996 and 2000.
"Now, we're not necessarily hoping that having him in the foundation will mean our outfielders will start throwing like Bernie, our hitters will begin hitting like him, or our faster baserunners will start running like him," Yankees first-year coach Joe Girardi said. "Most of our guys are already better than he was. We just know—and this is what I told Bernie's family—that the good deed of letting a former Yankee permanently come home will be recognized by the baseball gods and will translate into Yankee victories, which will be good for the entire human race."
Williams, who was smiling from the moment he arrived at the new stadium until his face could no longer be seen, was grateful for the opportunity.
"I would do anything to help this ballclub win another World Series," Williams shouted up to reporters while standing in rapidly filling pit. "Just to be part of this organization again in some capacity is an honor and privilege. And even though I haven't received a thank you from the Steinbrenner family, I know they are appreciative."
"This is what it means to be a lifelong Yankgluh [sic]," Williams attempted to add.
According to Yankees president Randy Levine, the organization had been discussing various ways to exorcize the curse of the buried Red Sox jersey, under which the Yankees went an "unacceptable" 4-4. Levine said that it was Hal Steinbrenner who suggested submerging a former or current player in concrete as a good luck charm.
Interoffice e-mails confirm that players who made the short list were Yogi Berra, Paul O'Neill, and current Yankee outfielder Shelley Duncan.
"Truth be told, we didn't even think of Bernie," Levine said. "But then we got a call from his agent. It took a bit of convincing on their part, but in the end it seemed like this fulfilled both of our needs."
"By giving Bernie this chance, we have once again proven why we are the classiest organization in all of sports," Levine added. "Lesser teams would have overreacted to this whole curse thing and buried Derek Jeter."
When asked if burial in the new stadium guaranteed that Williams' No. 51 would be retired in the new Monument Park, both Steinbrenners had no comment, saying only that they appreciated Mr. Williams' commitment to the team.