NEW YORK—With a week to go before pitchers and catchers report for spring training, the New York Yankees shored up their pitching, hitting, and defense Monday by signing every player in professional baseball.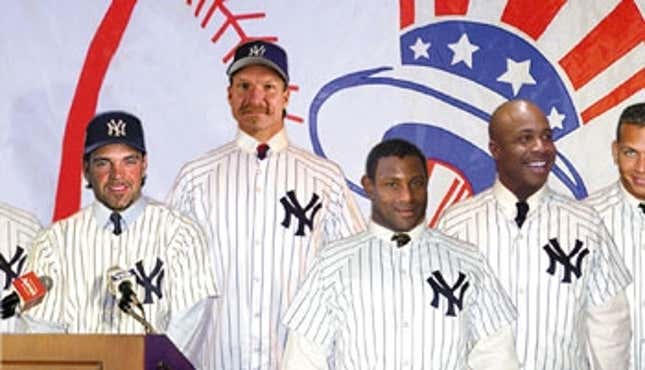 Edgelords Explain Why They Love Elon Musk
"We'd like to welcome the entire roster of Major League Baseball into the Yankees family," said team owner George Steinbrenner, watching as the franchise's 928 newest additions held up their pinstripes at a Yankee Stadium press conference. "With these acquisitions, we are in position to finally nab that elusive 27th World Series title."
Sports reporters were not surprised by the move.
"This is not entirely unexpected," New York Times baseball writer Murray Chass said. "When the Yankees followed up their signing of Japanese slugger Hideki 'Godzilla' Matsui by annexing Cuba for use as a Triple-A farm club, it was clear that Steinbrenner was willing to do whatever it takes to win."
By noon, Yankees GM Brian Cashman had signed the entire National League and most of the American League to multi-year contracts. Some 10 hours later, the final opposing player, Texas Rangers shortstop Alex Rodriguez, had been acquired by the Yankees, who bought out the remainder of his $252 million contract for $300 million.
"It's an honor to be part of this team," said catcher Benito Santiago, picked up from the San Francisco Giants as insurance in case catchers Jorge Posada, Ivan Rodriguez, and Mike Piazza all go down with injuries. "It's a surprise, certainly, but I'd be crazy to turn down the opportunity to play on what is, by default, the greatest team in baseball."
Yankees manager Joe Torre, whose pitching rotation, prior to the mass signing, lacked a clear seventh ace, now has the luxury of starting each of his hurlers twice a season.
"As they say, you can never have enough pitching in this league," Torre said. "Especially come playoff time. Now, if we make it to the World Series, we'll be able to start Pedro Martinez in Game 1 and still have him fresh and ready to go for a Game 287, should it be necessary."
With so many egos to juggle and so many personnel decisions to make, Torre said his job will actually be harder this season, the lack of opposing players notwithstanding.
"Hey, I don't care who you've got on your team; winning in this league is tough—Sammy Sosa, Barry Bonds, and Randy Johnson or no Sammy Sosa, Barry Bonds, and Randy Johnson," Torre said. "And it's even tougher in New York. This is a baseball town, and some of these fans think the Yankees are the only team in baseball. Now that we truly are, the pressure to win will be that much greater."
The mass signing, extravagant even by Yankees standards, caused the Bronx Bombers' payroll to skyrocket from a former league high of $149 million to $5.6 billion. Cashman noted that much of that figure is tied up in bonuses to be paid out to pitcher Tom Glavine, who at 37 will almost certainly not play out the entirety of his 15-year contract.
Baseball commissioner Bud Selig approved the signing, noting that the other 29 major-league teams received ample financial compensation.
"I see no reason why a small-market team like the Twins or Expos can't continue to remain competitive, just because it lacks players," Selig said. "The league was due for contraction, anyway."