NEW YORK—If you work hard, believe in yourself, and never lose sight of your dreams, you can achieve anything you want, the make-believe children's-book character Chipper Chipmunk said Tuesday.
"No matter what, I've got to keep climbing!" Chipper said on page 11 of Chipper Chipmunk Climbs Straight To The Top, released Tuesday by Scholastic Books. "No matter how windy, no matter how lofty, I must never be scared to go high, says I!"
In the book, Chipper faces numerous challenges as he attempts to climb Majestic Mister Maple. The Blustery Westerly Wind blows this way and that, rocking Mr. Maple and slowing Chipper's progress. Scornful Squirrel tries to damage his morale, openly questioning whether Chipper can climb as far or as fast as he thinks he can. And Fearsome Fox utilizes direct, physical methods of obstruction to impede Chipper's ascent.
In the end, however, the fictional woodland creature triumphs over all adversity, including his own self-doubt.
"From down there, Mister Maple seemed tall as the sky, and it scared me so much I almost didn't try," Chipper mused from the tree top. "But now that I'm up at the tippity tip-top of the tree, there's nothing at all that's as high up as me!"
G/O Media may get a commission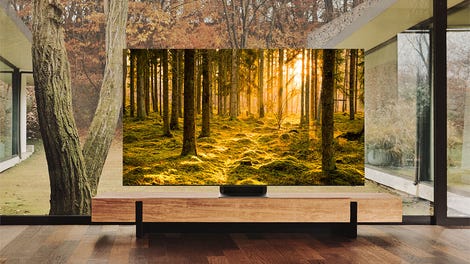 Up to 40% off
Samsung Smart TVs
After reaching the top, the pretend rodent issued a challenge to all who witnessed his feat.
"I knew I could do it—it was hard, yes, it's true. But if chipmunks can climb to the sky, so can YOU!" Chipper said, punctuating his message with a thumbs-up sign and a wink.
According to Dr. Roland Gibson of the American Council For Literature & Ethics, Chipper's core message—that people can be or do anything they want—is a fallacy widely perpetuated in children's books.
"Chipper's unshakable faith in success through hard work and persistence isn't something we typically encounter in our daily lives," Gibson said. "This groundless assumption that an individual's capacity for achievement is limitless is a particular failing of children's literature."
Continued Gibson: "Chipper's success took place in the extremely narrow field of tree-climbing, and was achieved free of such real-world factors as class, wealth, religion, or race. To assume that we can apply these lessons to our infinitely knottier, more complicated real-world lives is a wild oversimplification."
Gibson said that, with the exception of certain celebrities and politicians, statements like Chipper's are almost always made by talking animals, superheroes, omniscient narrators, anthropomorphic trains, wandering magicians, friendly dragons, sentient heavenly bodies, Jesus, and other characters subject only to the rules of narrative causality.
In spite of Chipper's good intentions, his positive message has not had much of an impact on the non-imaginary public.
"So, this chipmunk wants us to believe that just because he climbed some stupid tree, anything is possible?" said Dawn Dressler, a Wichita, KS, single mother of three. "Chipper wouldn't be so sure of himself if he had to hold down two jobs, had no dental insurance, and lost half his pension to corporate corruption. Let's see him reach for his goddamn dreams then."