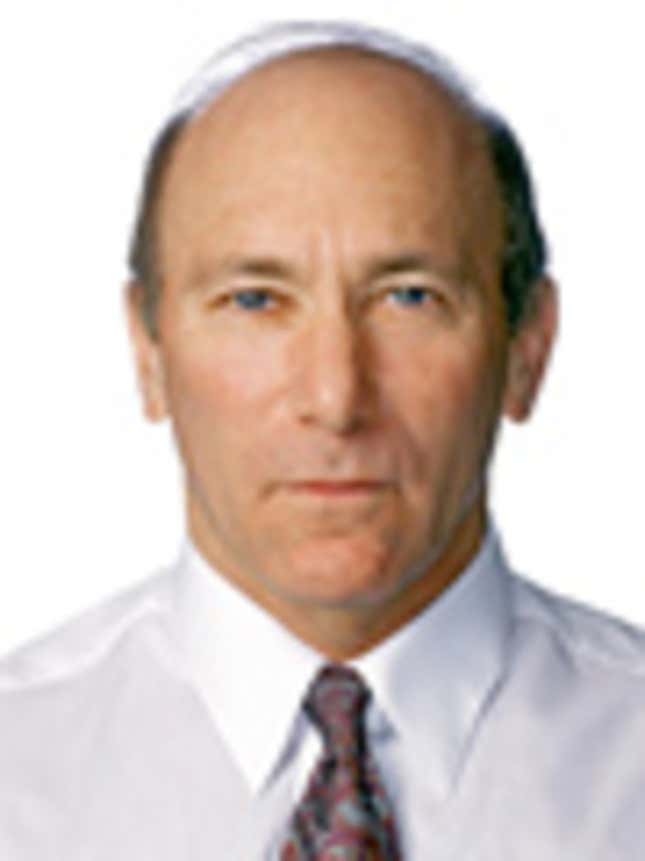 And so it ends.
Coworkers, colleagues, brethren: I have just been informed that my time at Chesterfield Mutual must come to an unceremonious end. I have but 20 minutes to gather my things before I am escorted to the parking lot, never to return to this two-story multipurpose office space again. But do not weep for me, dear friends. For though my earthly form may be banished from these hallowed halls, take heart that my soul will remain wandering forever here, at Chesterfield Mutual.
104-Year-Old Man Awarded WWII Medal Just To Be Nice
This insurance office and I are cosmically bound. That was something the higher-ups never seemed to understand. Sure, they can fire me. They can take away my ID badge and parking pass, and turn my cubicle into additional storage space for printing supplies. But my eternal essence will still emanate from every crack and crevice of this place. My body may be at home, watching CSI marathons and eating cold taquitos out of a bowl, but my spirit will be near you—most likely standing by the copier wasting valuable company time.
Your eyes will no longer perceive my large, sometimes a little smelly physical form moving among you, popping in 15 minutes late to every meeting, but I promise, you will still feel my presence. Every time an inappropriate joke has been posted on the bulletin board, every time there is fresh urine on the toilet seat, every time the coffee has been finished off but no one has made a fresh batch, you will know that I never truly left you.
Despite what building security tells you, I will not be leaving Chesterfield Mutual immediately. Not all of me, anyway. Yes, my body will soon be receiving unemployment checks at 184 Laurel Ave., but my soul—my inner self—will never stop making excuses for every unimaginably simple task.
The unshakable union I have formed here in the Akron claims department is stronger than anything a sudden termination based on suspicion of office-supply theft and chronic absenteeism could sever.
Do not despair. This is a sad moment for all of us, and change is difficult to accept. I'm sure it will take months for Patricia to adjust to not having me disrupt her phone calls with asinine questions so I can openly ogle her cleavage, but adapt we must. I only hope she finds comfort in the knowledge that, in my heart, I will always be leering at her breasts. Not to mention I also took a photo of them on my phone once when she thought I was sending a text message, and then forwarded it to myself.
Brendan, Jack, Marcy—indeed, the whole accounting department—fret not: My spirit will forever linger near your offices, even though my spirit has no business being on that floor except to push off some work on you that I said I already did and tried to send off in an e-mail but then "forgot" to include the attachment. Perhaps you'll feel nothing but a cold chill and an unexplainable urge to cancel your lunch plans, but that's how you will know Roger Jankowski is still with you.
That is, unless my intangible essence has another dentist appointment and it's not in yet. It'll be in at 3 p.m. unless there's bad traffic, and then it might just take the rest of the day off.
Don't you see? The HR department can never destroy what we have! They've only made our bond stronger, for now it is immortal, timeless. My presence at Chesterfield Mutual is no longer constricted by the standard nine-to-five grind. A part of me will always be present within those gray, concrete walls, playing Freecell and trying to cut out at 4:30 without Mark or Rebecca noticing.
The overwhelming whiffs of my aftershave, the tiny pieces of rolled-up paper I litter around the conference room, my insistence on referring to everyone as "kid": these reminders of me will find you in your darkest moments and keep you going. And you must keep going. If not for the sake of Chesterfield Mutual, then for the hope that you will someday see me, standing before you once again, probably at the Annual Picnic if they have it in the same place as last year.