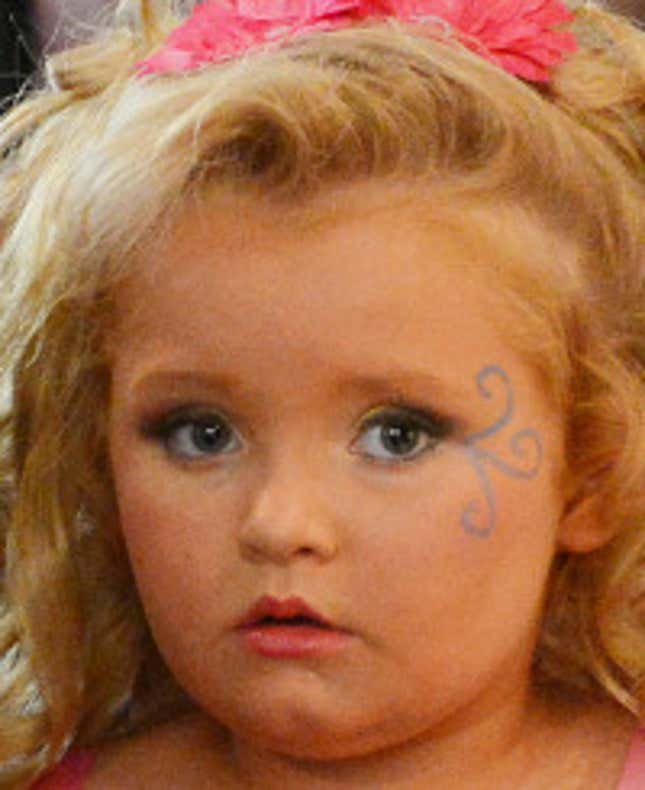 Like millions of viewers around the nation, I was thrilled this week when TLC renewed my television show, Here Comes Honey Boo Boo, for a second fun-filled season. It fills my heart with joy to know that our raucous Southern lifestyle in rural Georgia entertained so many families and started a "redneck fever." Heck, more people watched 'Honey Boo Boo' than the Republican National Convention. That's really something!
So as me, Mama, Glitzy and eleven-fingered baby Kaitlyn gear up for the next chapter of Piggly Wiggly and pageantry, I want to take a moment to thank all of our fans out there and to remind them that this charade is, of course, going to end very, very badly.
You know that, right? That my whole life is, sooner or later, going to wind up being a complete and utter train wreck of delusion and misery? Just want everybody to be clear on that.
Again, I'm glad people are enjoying the show. It is definitely good that people enjoy gathering around the television and laughing at my chubby cheeks, and my tacky family, and all of our hysterical antics. Just so long, of course, as people are aware that there is no possible scenario in which I will grow up to be a functional human being who is healthy and psychologically well-adjusted. Or successful. Or anything but a sick punchline, or worse. Because viewers should already know that. I mean, I'm a 7-year-old girl who regularly consumes a combination of Red Bull and Mountain Dew, for God's sake. And who loves constantly mugging in front of a camera at an age when a human being generally shouldn't be doing that kind of thing.
But, then again, what am I saying. Of course people know this! Of course people understand implicitly that I am going to one day in the near future develop serious health problems not limited to massive weight gain, type II diabetes, and likely drug addiction as a result of emotional maladjustment and years of unrestricted access to dangerous substances provided by television producers and sponsors. You'd kind of have to be a willfully clueless idiot not to realize that, after all. That's something anyone who's watched even one second of my show, particularly any moment that involves me or my family eating or speaking, would realize.
So, assuming you all understand this, then that means you are all totally okay with gleefully laughing at me and my family, even when there is a pretty darn good chance that an act of horrific violence may very well lurk in my not-too-distant future. An act of violence that, say, 10 or 15 years from now will make people who once watched my show say, "Oh my God, that's awful. What a sad and fucked up little life she had. Well, that's what happens when someone is given that much attention and exposure at such an early age. It warps their mind and makes it impossible for them to develop into normal adults."
Those are words you will speak one day. And you're okay with that, right? You should probably be okay with that if you want to keep watching my show.
And, as any television viewer with even one shred of common sense surely knows, that's only in the best-case scenario. In the worst-case scenario, my reckless behavior and destructive lifestyle will entangle dozens of people within an inner circle of handlers, publicists and hangers-on with whom I'm still able to surround myself due to appearances at nightclubs and adult magazines, which will pay just enough money to keep me from insolvency—that is, until I reach an age in which the public inevitably tires of me and I have to resort to pornography or prostitution.
These things may not happen in the immediate future or even within the next few decades, but rest assured that they will more than likely happen sometime during my lifetime, a lifetime that will probably end before age 45, in large part due to years of hard partying, substance abuse, reckless driving, or some combination of those three, if not by outright suicide brought on by years of depression and estrangement from family.
Also, just to be clear, when you look at me, I do hope a series of images rushes across your brain, including a breaking TMZ alert about my possible death, a hastily-aggregated Huffington Post slideshow titled "Honey Boo Boo Through The Years—which will showcase childhood pageant photos, mugshots from multiple arrests, before-and-after shots from plastic surgery procedures, and completely staged paparazzi photos from when I needed some extra cash—and the leaked photo of my corpse that an undisclosed family member will sell to the tabloids for $15,000. You should definitely see all of that. As I'm sure you do.
But I hope I haven't given the wrong impression. By all means, continue watching the show. After all, it's a hell of a good time! No one who's seen me practice a new dance routine for an upcoming pageant can argue that it's not adorable, especially when I'm dressed up like a sex icon like Madonna or Britney Spears.
Of course, they also can't argue that years of participating in pageants that shamelessly exploit young girls' bodies could possibly lead to anything other than my developing a horrible relationship with my body and view of female sexuality, causing me to either overeat, starve myself, cut myself, undergo regular liposuction, become pregnant accidentally, and generally destroy myself trying to fill the hollow void left by the deceivingly glamorous and fun-filled stardom of my youth. Definitely can't argue that.
Anyway, love y'all! Thanks for watching!