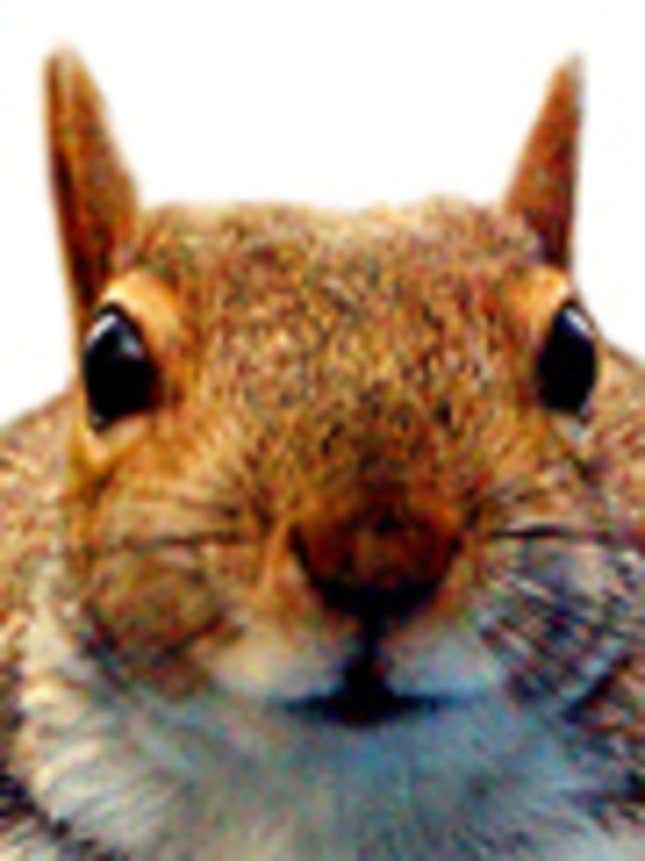 I'm a happy-go-lucky squirrel who loves living the good life of climbing trees and eating nuts. Mostly eating nuts. Man! I can't get enough of them. So tasty. But let's make one thing clear, right here and now: I have never killed anyone.
This Week's Most Viral News: September 22, 2023
Look at me! I'm a squirrel, for crying out loud. How am I going to kill a human being? Even if I wanted to, it would be impossible. "Killer Squirrel?" Please. It's just a cruel name made up by lazy journalists who want to move papers.
The truth is that the "attack" in question was merely the result of an unfortunate misunderstanding between myself and a young boy with a bag of peanuts, who remains alive and well to this day. Does he have both eyes? No. Is he blind? Absolutely not! They were able to surgically re-insert the left eye, and he has about 40 percent of his sight in the right one.
So you tell me: How does that make me a killer?
I concede I had his route home memorized, but I wasn't following him, per se. I was following the bag of peanuts he bought at the corner store, just like he does every afternoon around 3:30. Before you judge, let me remind you that there are plenty of people who spy on kids for their own reasons, and, like myself, the vast majority of them are not child murderers.
I blame the mainstream media for blowing this whole incident out of proportion. Did they report on all the kids I followed home that I didn't attack? Of course not. They just rush to be the first to demonize a poor innocent squirrel who just couldn't stand to see a naughty little boy spill a bunch of yummy nuts.
Those so-called journalists got so many details wrong, I'm at a loss as to where to begin. For example, I'm not "an enormous, savage rodent." I'm just an average-size squirrel. There were no reporters on the scene, so how would they even know anyway? I promise, when I jumped down on that kid's shoulder and sunk my claws into his face, there was no one there to see it.
I made damn sure of that.
In fact, none of the published accounts were even remotely accurate. They referred to me as "rabid and bloodthirsty." That is denigrating on so many levels. I am absolutely not rabid. Yes, I had a little mange earlier this year, but it cleared right up. And I may be nut-hungry, but that's a far cry from bloodthirsty. These labels are slander and libel, and frankly, they hurt. If I had a minute alone with one of these no-good "reporters," and could wrap my yellow teeth around one their eyeballs, believe me, I'd do it.
They all think they're judge, jury, and executioner. Well, I'd like to remind them of something: Intent is nine-tenths of the law, and I never intended to rip up that kid's corneas like I did. Once he started screaming, though, everything kind of went to red. Hell, it's not like I got out of this unscathed—he must've knocked me off his head three or four times during the ensuing chaos. Next thing I know, the kid's flailing on the ground screaming bloody murder, and then a bunch of adults and sirens show up. Things were looking pretty bleak for old Danny the Squirrel, so I ran.
Look, it's been a tough year. I may have gotten desperate at times, but I'm no murderer. I swear to you. Do I look like I could kill someone?
Do I have regrets? Sure. I should have just picked the peanuts up off the ground the moment he dropped them, and taken them up a tree with me. I would have been in nut heaven. Instead, I wound up covered in blood, freaking out, as I ran across the street, barely avoiding a speeding car, without a single nut to my name.
To repeat: All that and I didn't even get any nuts. Well, I thought I had one, but once I stopped running, I realized it was only a damn eye, and I certainly had no desire to eat that.
And another thing, the term "killer squirrel" implies habitual behavior and that I have assaulted multiple kids, and that is completely a lie. There's no denying that I have followed other kids home in the past in the hopes of getting some nuts. They're all still alive, though. The smart ones tossed a couple of nuts at me. And the dumb ones, well, they're not worth the hassle. They'll get what they deserve in the end.
You think I'm crazy? Maybe I'm crazy for nuts, but that's all. I am what I am—I am what society made me. We all have our flaws. I love nuts, maybe too much. But I ask: Is that a crime?