Did You Forget About That For A Minute?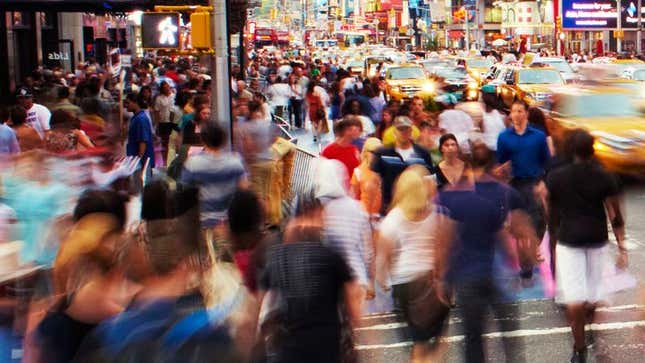 WASHINGTON—Saying that despite the possibility you may have briefly been able to distract yourself from the incontrovertible fact by browsing the internet, hanging out with friends, reading, working out, or via some other diversion, sources confirmed Friday that you are still going to die one day and there is nothing you can do to prevent it.
Experts wondered if perhaps you had momentarily forgotten about that—forgotten that one day, you will be dead for all of eternity.
"At some point, you—the person reading this article right now—will simply cease to exist," said numerous sources, who repeatedly emphasized that whether or not you're considering your own death at any given moment has no bearing on its inevitability. "It could be today; it could be 70 years from now. The fact remains that one minute, you will be a living, breathing, conscious being with ideas and feelings and opinions and sensations, and the next, you will be nothing. Quite literally nothing."
"And then that's it," experts continued. "Forever."
At this point, sources asked if you had actually considered how long, exactly, forever is.
Numerous experts also explained to reporters how, after you have died, it will require only the most infinitesimally negligible portion of the ensuing span of time before everything you've ever accomplished, said, experienced, or felt is entirely forgotten—completely eradicated without even the smallest trace left behind.

Sources hastened to add that such a state of nonexistence is irreversible and will continue on infinitely, and questioned whether that was something you were currently contemplating.

"Just think—no matter how big or small or good or bad you perceive them to be, all of the choices you make during your life are, in the overall scheme of things, utterly meaningless," sources said. "Because someday, your heart will stop beating, and blood and oxygen will no longer reach your brain, and every single memory and thought you've ever had will disappear and never, ever come back. That will happen to you."
The same sources went on to question whether you fully perceived the inevitability of your own death, and not simply as a mere abstraction, but rather as the concrete, unavoidable, steadily approaching reality that it is. Indeed, these sources urged you to stop and look at your hands for a moment—really look at them, right now—and consider how they will one day rot away entirely—flesh, blood, cartilage, bone; all of it, completely gone—in the days and months and years and millennia after you have been fully and eternally extinguished from existence.
Expressing concern that you may have somehow been able to forget that you're careening ever closer toward your own demise even while reading this sentence, sources reconfirmed that one day, you will be nothing and there will be nothing, and you will not even be aware that there is nothing.
"Are you thinking about that now?" experts asked. "Like, right now?"
Furthermore, sources added that even if you stopped reading well before this paragraph and never acknowledged the truths affirmed in this article, this would not, as if by magic, prevent you from one day being dead until the end of all time.
"It should also be noted that everyone you've ever known and loved is going to die, too," experts continued. "Your mother will die; your father will die; your friends will die; your significant other will die; and so will every person you have ever seen or spoken to, or will ever meet—or never meet, for that matter. Just like you, they'll all be gone, insensate unendingly forever and ever afterward. Have you thought about that recently?"
Experts concluded by noting that this will continue to be the case tomorrow, the next day, and every day after that until a particular day—which will be an actual, real calendar date in the future—when this inevitably happens to you. You.