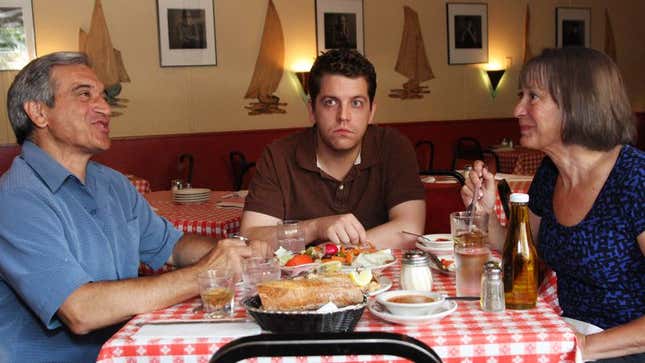 CHICAGO—During dinner with his visiting parents at the Italian eatery Prosecco last Saturday, the only thing 29-year-old Eric Kauffman could think about was that the man and woman who had raised him, cared for him, and supported him all his life would eventually die, and that their passing would be extremely sad, sources confirmed.
This Week's Most Viral News: September 29, 2023
While Kauffman's mother and father—62-year-old Elaine and 63-year-old Paul—looked at the menu, discussed retirement plans, and laughed at old family anecdotes, their son is said to have sat across from them and constantly pondered numerous aspects of their inevitable deaths, including how emotionally devastating it would be the moment he received that fateful call from a hospital, how mind-boggling it was that two people he felt such deep love for would suddenly just be gone, and how it was not unrealistic to think that in 15 years, or possibly even 10, he could be an orphan.
"When you die, I honestly don't know what I'll do," Kauffman reportedly thought as his father commented on the freshness of the bread and complimented his wife on her restaurant pick. "The grief I'll feel will be so staggering it literally knocks the wind out of me when I think about it."
"I'm afraid," Kauffman mused when his mother suggested they order a plate of bruschetta for the table. "You will die sooner rather than later and I feel like I'm running out of time with you. I'll miss you so much it scares me."
As Kauffman's mother and father talked about their upcoming vacation to Mexico and asked the waiter several questions about the specials, sources confirmed their son's brain continuously flashed between random images of himself as a child playing with his dad in the swimming pool or wearing his mother's homemade Halloween costumes, and future scenarios in which he would break down in tears while trying to deliver their eulogies.
Moreover, while his father sampled the wine he'd ordered and mentioned the status of several family friends, reports indicated that Kauffman kept imagining his dad withering away on a hospital bed, breathing with the aid of a respirator, smiling sweetly, and gesturing toward his son for one last hug.
"Mom is starting to look old—the way that old people look," Kauffman couldn't help but observe when he stared at the facial wrinkles and liver-spotted arms of the woman who would drop everything in an instant if he needed her, and whose support he counted on even though he never said so. "Someday I'm not going to have a mom anymore. How is that possible?"
Saying "uh-huh" as they spoke of potential Thanksgiving plans, sources later confirmed that Kauffman, a bachelor, couldn't help but wonder how painful it would be if his mother and father died before seeing him get married and have kids of his own. Moreover, Kauffman grinned politely at the mention of his sister Rebecca, who, as the passing of their grandmother had proved, would be so heartbroken by their parents' deaths that Kauffman would most assuredly have to handle all the funeral arrangements by himself.
"Funeral arrangements," Kauffman reportedly thought, "for my fucking parents of all people."
"It's spicier than I imagined it would be," the elder Kauffman said of his salmon as his son mentally noted that nearly every child had to deal with the death of a parent so what made him so special. "Mmm, potatoes are great."
"How's work, Eric?" the father asked his son, who responded, "It's good," when all that was going through his head was, "If you died in five years it wouldn't be odd because plenty of people die when they are 68."
His mother at a nursing home suffering from Alzheimer's and unable to recognize him; his father adjusting to living by himself without his partner of 50 years and then dying alone; and the devastating task of sorting through his parents' belongings because they were no longer alive to use them were the only confirmed notions swirling in Kauffman's mind when his father asked if anyone had saved room for dessert and his mother said that she would like some coffee.
"I haven't spent nearly enough time with you, and you are the most important people to me. How crazy is that?" Kauffman thought after his father paid the bill. "And the truly fucked up thing is that I have a feeling you will both die before I ever actually say, out loud, how much you mean to me."
Following the dinner, Kauffman's mother and father gave their son a hug outside the restaurant, got into a taxi, and were driven back to their hotel.