CONCORD, NH—According to sources, the deteriorating 10-year-old marriage of Dale and Gina Byer will somehow be magically restored this weekend by a zip-lining excursion to the mountains of northern New Hampshire.
The couple, trapped and suffocated by an increasingly hopeless, angst-ridden relationship, presumably booked the short getaway on the expectation that spending four hours gliding along a wire between 60-foot-tall maple trees will fully patch up the manifold emotional, sexual, and financial issues that have long been pulling them apart.
"It's going to be great just the two of us out there in the woods, zipping around like a bunch of kids," Dale Byer said of the childless couple's ploy to remind themselves of whatever it was they saw in each other when they first met. "We've always talked about doing something crazy like this, and now it's finally going to happen."
"I've heard it feels like you're flying," Gina added.
First conceived after a vicious, 15-minute-long fight over who would walk their dog—a golden retriever purchased by the Byers in 2008 as a desperate attempt to fill the void between them—the Saturday trip will begin with a leisurely drive up I-93, two hours on the open road that will reportedly erase in one fell swoop the deepening communication gap that has plagued their relationship for years.
G/O Media may get a commission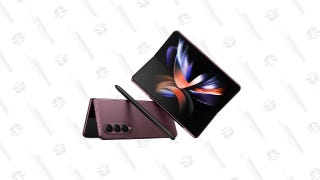 Save Up to $300
Galaxy Z Fold4
Including gas, meals, and admission fees, the zip-lining trip will cost the couple $500 they had put aside for much-needed repairs to their home, and take up time during which Gina had hoped to work on her resumé so she can eventually leave the dead-end job that has become the second-most miserable thing in her life.
"There's one section where you start on the edge of a cliff and it's 150 feet to the other side—can you believe that?" Dale said as if expecting a half-minute, high-altitude rush to suppress his almost unbearable desire to sabotage his marriage by having an affair. "And the deal they've got is fantastic, considering your ticket gets you a full day of zip-lining plus unlimited access to their rope bridges."
The couple's overwhelming trust issues, disagreement over whether to have children, tendency to criticize each other's appearance, and opposing views on whether Gina's ailing parents should move in with them or reside in a nursing home will reportedly be erased by a mechanism consisting of nothing more than a cable, a slope, and a pulley.
In addition, their fundamentally opposed attitudes on religion are expected to be rectified on the way home during a dinner-stop at the Applebee's off the Tilton-Northfield exit.
"Apparently we have to sign in when we get to the zip-lining center, then there's a safety briefing, and then they put you on a scale to calibrate the harnesses," said Gina, ignoring the miracle that would be required for the initial weigh-in not to reignite the body-image issues that have prevented her from enjoying sexual intercourse her entire adult life. "But after you take care of all the boring stuff, that's when the real fun begins."
"I can't wait to get out there," she added.
Brandishing a brochure given to him by a coworker who went on the same trip years ago with her husband and is now in the final stages of legal separation, Dale pointed out that the facility has alternative activities—including an off-road safari, a tree-house tour, and an observation platform—in the event they want to take a break from zip-lining.
"We'll probably be worn out by all that physical activity, so it's nice to know they have other things to do," said Dale, unconsciously acknowledging that he and his wife will inevitably blow up at each other, make a scene, and have to be removed from the course by ladder. "Who cares, though, as long as we're spending quality time together?"