WASHINGTON, DC—President Clinton's approval rating skyrocketed Monday with his acquisition of the keys to the magic hot rod belonging to popular, supernatural rock group ZZ Top.
According to a CBS News poll, Clinton's popularity has soared from 43 to 90 percent in the past three days, a jump many Washington insiders attribute to the "Eliminator" hot rod and its stylized "ZZ" keychain, presented to him by the hard-rocking trio.
"It would appear that Clinton's acquisition of the mysterious ZZ Top Eliminator—as well as his newfound association with ZZ Top's members themselves and the scantily clad women who accompany them at all times—has resulted in a tremendous image makeover for the president," said Washington Post White House correspondent Arthur Tierney.
Longtime public perception of Clinton as a weak, ineffectual virgin—widely attributed to his feathered, mid-'80s-style hair and powder-blue windbreaker—has been dispelled nearly overnight as a result of the new "sharp-dressed" appearance of the president and his family, as well as the slutty, assertive behavior of their new female companions and the guitar-driven Texas boogie constantly pumping from the otherworldly trio's customized 1940 Ford.
"I, personally, am crazy about a sharp-dressed man," First Lady Hillary Clinton told reporters Monday. "And I believe it is fair to say that most, possibly all, American women share this viewpoint."
G/O Media may get a commission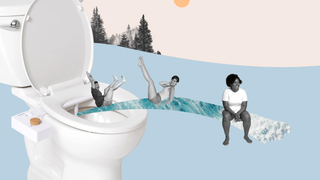 17% off
Tushy 3.0 Warm Water Spa Bidet Attachment
The arrival of ZZ Top comes at just the right time for the Clinton Administration, with an August 11 bullying at the hands of a group of mean, overweight biker-types having left the President's approval rating at an all-time low.
Rumors of a ZZ Top intervention to repair Clinton's image had been flying since last Wednesday, fueled by numerous reported sightings of a ghostly Eliminator manifestation appearing and disappearing on streets throughout the Capitol Hill area.
Few Washington insiders were surprised, then, when the magic vehicle finally appeared at the White House Monday, with three provocatively dressed women emerging from the car and reentering several minutes later with Clinton in tow.
Clinton, outfitted in a brand-new clean shirt, new shoes, silk suit, black tie, gold watch, diamond ring, cuff links, stick pin, top coat, top hat, black shades and white gloves, was unusually candid speaking to reporters Tuesday.
"I would like each and every American to, quite simply, give me all their lovin'," Clinton said, demanding their hugs and kisses, as well. "And it is my greatest wish that in giving me all their loving, they do not let up until they are through."
According to White House Chief of Staff Erskine Bowles, at approximately 4 p.m. Monday, Hillary Clinton and daughter Chelsea were also picked up by the Eliminator and taken to a D.C.-area beauty salon, where, with the aid of the car's three sexy guardians, they were given a complete fashion overhaul, including a change of wardrobe, hairstyle and makeup.
Replacing Hillary and Chelsea's traditional, conservative mode of dress with tight-fitting, leopard-print spandex, neon costume jewelry, knee-high boots and double-wraparound studded belts, the three mysterious ZZ Top-associated women then drove the made-over pair to an exclusive Washington charity dinner.
Eliciting reactions ranging from shock to delight, the Clinton women paraded with newfound confidence among the elite guests, tossing their hair, strutting on tables and, according to several witnesses, forcibly shoving a plate of pie into the face of columnist George Will, one of the First Lady's most outspoken detractors.
"You've got to give Clinton and the First Family credit—they've really scored a major public-relations coup," said Walt Devine, director of the D.C.-based American Political Caucus. "Let's face it: The president has legs, and he knows how to use them."
Though ZZ Top members Billy Gibbons, Dusty Hill and Frank Beard offered no comment, disappearing into some otherworldly realm when approached by the press, they did demonstrate non-verbal support for Clinton by materializing in his vicinity, presenting him with a commemorative pink fur-lined guitar, and giving him a synchronized 'thumbs-up' sign before vanishing once again.
As of press time, it is unknown whether Clinton will offer any compensation to the members of ZZ Top for their preternatural aid. Reports are circulating, however, that Clinton will lobby Congress to revive funding for the band's long-delayed $6.1 billion customized "Afterburner" space-shuttle coupe. Approved by Congress in May 1985, the Afterburner project was shelved that July, when controversy erupted over the revelation that the Texas-bred guitar rockers had used synthesizers on their hit song "Velcro Fly."